(english)+(deutsch)
Science Fiction in Performance


Technische Sammlungen (Technical Museum) Dresden
Wednesday, August 16th
19:00 doors / 20:00 performance

Featuring Irina Gheorghe, Emma Waltraud Howes and Justin F. Kennedy
Curated by Alison Sperling

This event brings together three Germany-based international artists: Irina Gheorghe (b. Romania), Emma Waltraud Howes (b. Canada), and Justin F. Kennedy (b. U.S. Virgin Islands) for an evening of performance and conversation throughout the spaces of the Technische Sammlungen Dresden, who will hold special opening hours for this event. Inviting movement between rooms and halls, select open exhibitions, and social spaces, the evening will inquire after the ways in which these three artists are inhabiting the speculative and the science-fictional in their embodied practice and thought.

Co-sponsored by the Department of English at Florida State University

Cash bar
Wheelchair accessible
In English

This event is free and open to the public!


Science Fiction in Performance


Technische Sammlungen Dresden
Mittwoch, 16. August
19:00 Uhr Einlass / 20:00 Uhr Vorstellung

Mit Irina Gheorghe, Emma Waltraud Howes und Justin F. Kennedy
Kuratiert von Alison Sperling

Diese Veranstaltung bringt die drei in Deutschland lebenden internationalen Künstler*innen Irina Gheorghe (geb. in Rumänien), Emma Waltraud Howes (geb. in Kanada) und Justin F. Kennedy (geb. auf den U.S.-amerikanischen Jungferninseln) für einen Abend mit Performances und Gesprächen in den Räumen der Technischen Sammlungen Dresden zusammen. Der Abend lädt dazu ein, sich zwischen den Sälen, ausgewählten offenen Ausstellungen und sozialen Räumen des Museums zu bewegen und zu erkunden, wie diese drei Künstler*innen das Spekulative und Science-Fiction in ihrer Praxis und ihrem Denken verkörpern.

Diese Veranstaltung wird vom Englisch Department der Florida State University mit gesponsert.

Cash-Barbetrieb auf Selbstzahlung-Basis
Für Rollstuhlfahrer zugänglich
In englischer Sprache

Diese Veranstaltung ist kostenlos und öffentlich zugänglich!
SPEAKERS

Irina Gheorghe works primarily with performance, in combination with installation, collage, photography or video, to address the tensions inherent in the attempts to speak about things beyond our possibilities of observation, from extraterrestrial life to hypothetical planets. Her work explores techniques of deviation as a way of estranging the everyday, abstraction as a language for interstellar communication and the absurd as a possible mood of the interaction to a world beyond perception. Irina also works as part of the artist duo The Bureau of Melodramatic Research, co-founded in 2009 together with Alina Popa (1982-2019), to investigate how passions shape contemporary society. Since January 2019 she is part of the Psychedelic Choir, a Berlin based group of performers who work with vocal improvisation.

Photo credits: Irina Gheorghe, Principles of Space Detection, NCAD Gallery Dublin, 2023. Photo: Declan Clarke.
Irina Gheorghe arbeitet hauptsächlich mit Performance in Kombination mit Installation, Collage, Fotografie oder Video, um die Spannungen zu thematisieren, die mit dem Versuch einhergehen, über Dinge jenseits unserer Beobachtungsmöglichkeiten zu sprechen, von außerirdischem Leben bis hin zu hypothetischen Planeten. Ihre Arbeit erforscht Techniken der Abweichung als Mittel zur Entfremdung des Alltäglichen, die Abstraktion als Sprache für interstellare Kommunikation und das Absurde als mögliche Stimmung der Interaktion mit einer Welt jenseits der Wahrnehmung. Irina arbeitet auch als Teil des Künstlerduos The Bureau of Melodramatic Research, das sie 2009 zusammen mit Alina Popa (1982-2019) gegründet hat, um zu untersuchen, wie Leidenschaften die zeitgenössische Gesellschaft prägen. Seit Januar 2019 ist sie Teil des Psychedelic Choir, einer in Berlin ansässigen Gruppe von Performern, die mit Vokalimprovisation arbeiten.

Bildnachweise: Irina Gheorghe, Principles of Space Detection, NCAD Gallery Dublin, 2023. Foto: Declan Clarke.


Emma Waltraud Howes
(b. 1976, CA) oscillates between movement and form to create time-based performance installations that incorporate soft-sculpture, sound, and improvisation with fallible objects. Their transdisciplinary works manifest as multiple reconfigurations of the body and space informed by a background in dance (ballet, baroque opera, modern, and baguazhang—an internal Chinese martial art), performance theory, and the visual arts within the framework of a conceptual art practice. Their labor is guided by observations of gestures with a focus on speculative scores—compositions representative of a stage in the development from concept and intention to depiction and effect. Buttressed by these graphic systems, Howes creates space for concentrated encounters, or 'serious play'; a process that embraces embodied experience toward the creation of 'hyper-glitch'operas as 'Cadavre Exquis'—chimeras that celebrate comprehensive failure and foster alternative perspectives.
Photo credit: Cannibalizing the Conductor © Derek Howard, Emma W. Howes, Justin F. Kennedy (2022) Photo: Dino Rekanovic (Vienna)
https://emmawaltraudhowes.com/
Emma Waltraud Howes
(*1976, Kalifornien) oszilliert zwischen Bewegung und Form, um zeitbasierte Performance-Installationen zu schaffen, die Soft-Skulptur, Klang und Improvisation mit fehlbaren Objekten einbeziehen. Ihre transdisziplinären Arbeiten manifestieren sich als multiple Rekonfigurationen des Körpers und des Raums, die von einem Hintergrund in Tanz (Ballett, Barockoper, Moderne und Baguazhang - einer innerchinesischen Kampfkunst), Performancetheorie und bildender Kunst im Rahmen einer konzeptuellen Kunstpraxis geprägt sind. Ihre Arbeit wird von der Beobachtung von Gesten geleitet, wobei der Schwerpunkt auf spekulativen Partituren liegt - Kompositionen, die ein Stadium in der Entwicklung von Konzept und Absicht zu Darstellung und Wirkung repräsentieren. Gestützt auf diese grafischen Systeme schafft Howes Raum für konzentrierte Begegnungen oder ein "ernsthaftes Spiel"; ein Prozess, der die verkörperte Erfahrung einbezieht und zur Schaffung von "Hyper-Glitch"-Opern wie "Cadavre Exquis" führt - Chimären, die das umfassende Scheitern feiern und alternative Perspektiven fördern.
Bildnachweis: Cannibalizing the Conductor © Derek Howard, Emma W. Howes, Justin F. Kennedy (2022) Bild: Dino Rekanovic (Wien)
https://emmawaltraudhowes.com/
Jacob Stoy
(sound design, in collaboration with Emma Waltraud Howes), born near Dresden, is a multi-talented artist inspired by sound and visual art. He plays jazz and electronic music as a solo artist and is part of various musical projects. He studied at Berlin and Halle and blends music, visual art and performance into conceptual works with collaborations from other artists. His work transforms everyday life into texture-rich installations, albums, and performances with a story or emotional depiction. (Bio c/o ChatGTP)
https://jacobstoy.de/
Jacob Stoy
(Sounddesign, in Zusammenarbeit mit Emma Waltraud Howes), geboren in der Nähe von Dresden, ist ein vielseitiger Künstler, inspiriert von Klang und visueller Kunst. Er spielt Jazz und elektronische Musik als Solokünstler und ist Teil verschiedener Musikprojekte. Er studierte in Berlin und Halle und verbindet Musik, bildende Kunst und Performance zu konzeptionellen Arbeiten in Zusammenarbeit mit anderen Künstlern. Seine Arbeit verwandelt das alltägliche Leben in texturreiche Installationen, Alben und Performances mit einer Geschichte oder emotionalen Darstellung. (Bio c/o ChatGTP)
https://jacobstoy.de/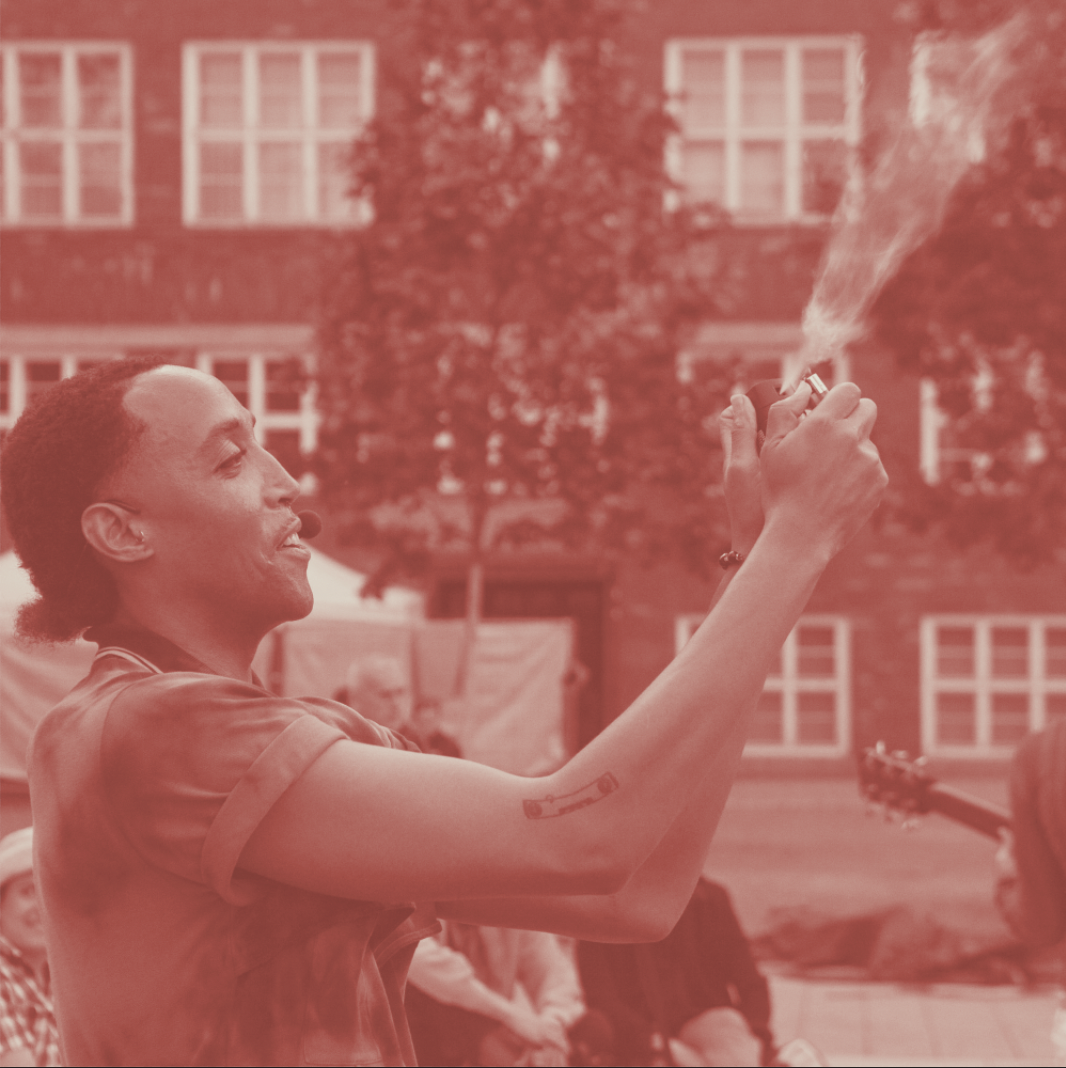 Justin F Kennedy is a Berlin-based community dance & vocal artist, teacher, DJ and dramaturg from St. Croix, US Virgin Islands. Justin's research pursues transformation and emerges from a durational dance and singing practice, and its further transference into cyphers, workshops, science fiction operas, installations, street interventions, happenings, music and film. Notable projects of late include: Apocalypso (2024), MINT (2024) by Sheena McGrandles, It`s OK. Commoning Uncertainties (2023) in collaboration with Joy Mariama Smith, Sun unseT (2022), SNDO, experimental dance film: Cannibalizing the Conductor (2022) in collaboration with filmmaker Derek Howard and artist Emma Howes, Recap of an Alien Garden, Movement Research Across, Galerie Wedding, Berlin (2022), A(un) Necessary World, Lifes, Hammer Museum, LA (2022), Vorglühen, OUT NOW, Uferhallen, Berlin (2021); UNFURL the jukebox musical: a shareable cypher, Montag Modus, Radialsystem, Berlin (2021); UNFURL: a lucid science fiction, 11th Berlin Biennale, Martin Gropius Bau, Berlin (2020); and Some Murder Theatre in Here, Volksbühne Grüner Salon, Berlin (2020). Justin has performed intimately with and for Melanie Jame Wolf, Martin Hansen, NSDOS, ILYICH, The Darvish, Jeannette Ehlers, Shannon Funchess, Dani Brown, Ligia Lewis, Louis Vuitton, Tino Sehgal, Adam Linder, Liz Kinoshita, Jeremy Shaw, Josh Johnson, BODYSNATCH, Faustin Linyekula, Jeremy Wade, Peaches, Wu Tsang, and others.

Photo credit: © XO Curatorial Projects / photo by Juan Saez
Justin F Kennedy ist ein in Berlin lebender Tanz- und Gesangskünstler, Lehrer, DJ und Dramaturg aus St. Croix, US Virgin Islands. Justins Forschung strebt nach Transformation und entsteht aus einer dauerhaften Tanz- und Gesangspraxis und deren weiterer Übertragung in Cyphers, Workshops, Science-Fiction-Opern, Installationen, Straßeninterventionen, Happenings, Musik und Film. Zu den wichtigsten Projekten der letzten Zeit gehören: Apocalypso (2024), MINT (2024) von Sheena McGrandles, It`s OK. Commoning Uncertainties (2023) in Zusammenarbeit mit Joy Mariama Smith, Sun unseT (2022), SNDO, experimenteller Tanzfilm: Cannibalizing the Conductor (2022) in Zusammenarbeit mit Filmemacher Derek Howard und Künstlerin Emma Howes, Recap of an Alien Garden, Movement Research Across, Galerie Wedding, Berlin (2022), A(un) Necessary World, Lifes, Hammer Museum, LA (2022), Vorglühen, OUT NOW, Uferhallen, Berlin (2021); UNFURL the jukebox musical: a shareable cypher, Montag Modus, Radialsystem, Berlin (2021); UNFURL: a lucid science fiction, 11. Berlin Biennale, Martin Gropius Bau, Berlin (2020); und Some Murder Theatre in Here, Volksbühne Grüner Salon, Berlin (2020). Justin hat mit und für Melanie Jame Wolf, Martin Hansen, NSDOS, ILYICH, The Darvish, Jeannette Ehlers, Shannon Funchess, Dani Brown, Ligia Lewis, Louis Vuitton, Tino Sehgal, Adam Linder, Liz Kinoshita, Jeremy Shaw, Josh Johnson, BODYSNATCH, Faustin Linyekula, Jeremy Wade, Peaches, Wu Tsang und andere gearbeitet.

Bildnachweis: © XO Curatorial Projects / Foto von Juan Saez